NurulQuran – Al Barakah Project – Gujranwala CAMPUS – Pakistan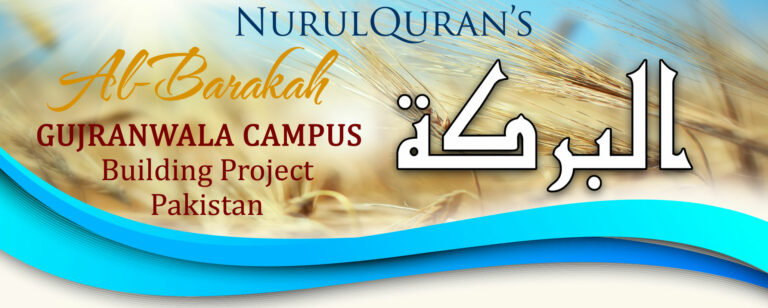 Current Location: Sarfraz Colony, Gujranwala
الْحَمْدُ لِلَّهِ الَّذِي بِنِعْمَتِهِ تَتِمُّ الصَّالِحَاتُ
ALHAMDULILLAH ! ​By the enormous Grace and Mercy of Allah (swt), NurulQuran Gujranwala is offering Islamic education for sisters and children since 2019 . Many Courses have been offered at this Small Space. As we grew we needed more space to conduct next batches and accommodate waiting lists students. We were in process of looking for bigger space since a year.
With the blessing of Allah SWT, We found a bigger space and we have signed a contract to buy this Building as a Campus in Gujranwala Sarfraz Colony ALHAMDULILLAH. First Installment of the Al Barakah Building Project - Gujranwala has been paid, And Next remaining payment is due by Ramadan 2022.
New CAMPUS Building ( Under Contract for Purchase ) In Shaa Allah
We are approaching our second Installment (remaining amount of 1.5 Crores PKR ) . And we hope you all seekers of Khayr and knowledge will continue to support us, InShaaAllah.
Lets make a difference with our small contributions  by being a part of this project ,*  to connect lost hearts with their Rabb,*  to protect & save generations & generations from being the dwellers of hellfire ,*  to correct the mistaken image of our religion in our societies ,*  to mould our own future generations to be leaders of pious & pioneers of good conduct. InShaaAllah
May Allah SWT reward you all for your generosity & grant you the good in this world and good in the hereafter and make this a source of great sadaqa e jariyah for you & your family.Ameen.
Following are the ways to Invest through * Sadaqah or * Zakaat in this Al Barakah Building Project - Gujranwala
Al Barakah Building Project Gujranwala Presentation